This week on Entrepreneur School, we speak with Terilee Harrison, about her complete, step-by-step roadmap to creating a steady stream of referrals. 
Terilee has been an expert in business networking and relationship marketing for 15 years and has worked with thousands of entrepreneurs through team referral networks as a professional speaker, she has the ability to both inspire and challenge audiences to action and change which can be attributed to her consistently authentic presentation regarding who she is, where she's been, and what she's learned along the way.
Today, we're covering the four key networking strategies you can use in order to boost your business.
Your business commercial blueprint
The first thing we are going to dive into is your business commercial blueprint. So I want to just share some points that I believe are important about your one-minute commercial. 
If there's one thing I have found after going to thousands of networking meetings over the last 15 years, it is that people don't plan, they wing it. It is so important that you plan what you are going to say about your business.
When it comes to creating a memorable commercial, you have to go up there and reel them in. you can introduce yourself, like "hey everybody, Terrilee Harrison here with Team Referral Network virtual chapters. I'm a networking coach and trainer from Houston" and they would be like "oh, okay." But if I dive into my introduction telling them what I'm looking for, their brains kick on. They think "oh i do that. I should introduce myself." 
When you do more than just introduce yourself, when you try to engage the people you are speaking to, that's when you will get people to remember you. Even when it comes to the networking meeting where you only have 15 or 30 seconds to deliver an intro, make sure to throw in a 'big ask'.
The next thing I want to point out is that if you network at the same places, change things regularly.
And what do I mean by that?
If you are attending a monthly or weekly event, it is important that you change up your questions and your blueprint. Give people fresh asks. And the best way to do this is to tie your asks; that is what you tell your audience what you're looking for, with your monthly goals.
I meet a lot of people who tell me "oh, networking just doesn't work for me." and so an important thing to think about is, if you're not getting what you want from your networking group, you have to really take a moment to think about whether you have intentional, or have you been winging it? And if you have been intentional, what have you been asking your networking partners for? What you ask for is what you get.
Now, you may be wondering; what exactly goes into the perfect commercial? Well, I would like to go through some of the things I would recommend you include in your commercial. And this can be used for your LinkedIn profile, your website intro, etc. and I find it is extremely important to plan these things out because a lot of the time people just tend to ramble and get sidetracked without a plan.
So here is what I would recommend. If you have a great question that can catch their attention, start with that. Then move on to your name and company name, or title. 
Next, in one short sentence, describe what you do. It is also important to mention your location; people want to know if you're local, etc. 
then it is time to throw in your ask; what is it that you are looking for this week? It is important that you don't go without a goal. 
Now, sometimes you are not just looking for a client, but a sort of power partner; someone who can connect you to other people, or potential clients. And so if this is you, tell your audience who would be a good power partner for you, again, tell them what you're looking for. 
And lastly, you will want to close with your motto, creed, or tagline; something to make you memorable.
So, when it comes to some action steps, I find it really helps to get peer review. Find trusted friends, coworkers, etc, who will listen to your commercial and tell you if they understand it. It's a great way to get some good feedback before you try it out on stage
I also invite you all to do the worksheet we have here for organizing your business commercial: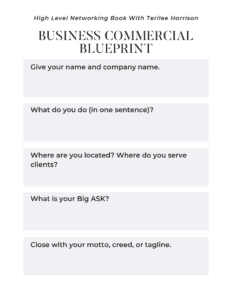 The power of the big ask
I'm sure we all have the question; "am I asking big enough when out networking?"
And so I have a bit of a brainstorming worksheet here to get you thinking about what you want, and what you should ask for from your networking group: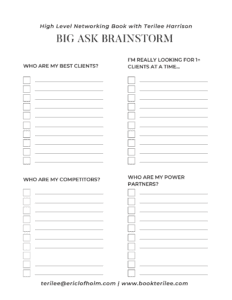 So the first question for brainstorming is "who is my best clients?" And so, if you're out networking and you don't know, and can't explain who your best clients are, how would your audience know either? You can't assume that people know who to refer us to. You must ask for what you want.
The next part I want you to think about is "how many clients am I looking for?" One? Many? And what kind? Are you looking for one person to do a podcast with? Are you looking for one person to do virtual summits with and another who you can collaborate on workshops with?
Another important thing to think about is "who are my competitors?" Now it is vital that you brainstorm and look into your competitors because this can help you understand how you stand out. Sometimes there's a niche that you love serving that they don't, and they would give you those referrals all day long. And these are your strengths.
Lastly, I want you to ask yourself: "who are my power partners?" and so, different from competitors, these are the people who you can share clients with, who can help you grow your business, and who you can share mutual gain with. And this is another brainstorming activity that will help you with your big ask.
Power partners
So power partners are, we talked about them, they're the people who we share clients with and it's not a competition and this is actually, one of the most powerful concepts in networking.
So networking and empowering partners and building relationships is a lot like dating. But the thing about relationships and dating is you go on one date and you decide, do you want to see him again? You can do that in business too. Ask yourself: "Do you want to further connect?"
If any of you are familiar with Les Brown, he says about power partners, that they have to be hungry. And so when you are meeting a potential power partner and they are not really taking on clients, and they are at the end of their business career, that person is not really going to help you grow your business. It helps to have assets, and it helps to have clients to share.
So one thing that I do recommend is that you take a look at the power partners you have already because some of you have already been building relationships, referring back and forth. Always take a look, every once in a while at how the relationship is going. Is there anything we could do to level things up so that we could give more referrals to each other?
So where do you find these new power partners?
Well, some of it comes in the ask, ASK, ASK. Some of it is going to be literally word of mouth.
Sometimes you can put it on your social media, say: These are the types of people I'm going to connect with. Some of it Might be networking.
The last segment we are going to talk about is one-on-one coaching sessions.
Networking meetings are places to connect. But all the good stuff happens in one-to-one meetings, and all the good stuff starts to really get better the longer you maintain relationships with people.
So when it comes to jumping into coaching sessions there are some questions you must think about. Firstly, who do you want to coach? And you all know what I'm going to say; your power partners! And next, when should you set a coaching session? And where should I have a coaching session? And so when it comes to maybe events that you go to, invite your partner there so you both get something out of it, or if the person you're meeting has a place of business, it's fun to go see it. Or invite the owner of that boutique to come and experience one of your services for free.
These are the basic things you have to plan out before meeting with someone.
Now I have another worksheet template that will be useful for you to fill out before a coaching session. You can send it to the person you're meeting in order to give them an idea of what, kind of, you're looking for, and what you're all about. It's a sample that will help guide you on some of the important pieces of information to exchange.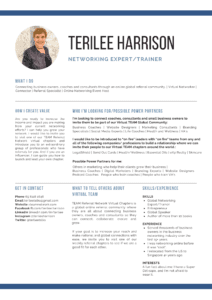 This includes, what you do, who you work with, what your goals are, what are your wants and needs, etc. and this will help you and your partner really figure out the exact ways in which you can help each other, and you two overlap in goals and beliefs.
If you are looking for more tips and tricks on networking, and how you can use networking to boost your business and create important connections, I have an E-book available called high level networking. If you are interested in reading it, email me at terilee@ericlofholm.com to receive it for free.
—
Follow Terilee on Facebook
Follow Terilee on Instagram
Check out Terilee on LinkedIn